I've written here before about the importance of "process targets" vs. "performance targets," but just the same it's slow to sink into my actual play on the course. These days, my focus is to swing with ease and to let it go in the flow. This is what I call "The Hula of Rhythm & Ease" or "The Ease of a Lay Up."
I get this working very well on the range and frequently early in my rounds; but then tend to fall back into an all too common tense attitude that clearly doesn't work. My habitual tendency to "work at it" (which is a kind of grasping where I try too hard) seems to be deeply ingrained in my psyche.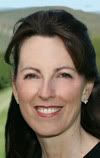 Then, recently, I was lucky enough to have an email conversation about this with a wonderful teacher of mine, Jo Hardy, the CEO of Extraordinary Golf (which in my opinion is perhaps the most highly evolved golf school in the world). She offered all kinds of insights and practices, but the biggest take-away quote for me on this occasion was:
"There's no magic bullet because I think what you are looking at is something you have to explore."
Thanks, Jo. That's what I needed to hear. I needed yet another reminder that my learning on the golf course is an adventure. I can only wake up from my sleep of self-effort one swing at a time.
Now, I'm happier with whatever happens because I enjoy this kind of learning, and I love connecting with my swing of ease. It's a beauty (if I do say so myself.) 😉 Thus, I am continually learning to have more patience with myself. I feel rewarded when I notice that I've fallen back into my personal grind of trying too hard… and once again, I pick myself up and re-center on pure play and I simply LET IT GO! (again)… Smooth and easy! One swing at a time…